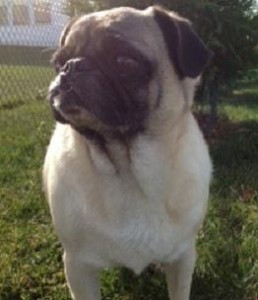 Name: Adele
Age: 6
Previous Life: Surrendered by breeder
Sex: Female
Weight:
Altered: Yes
Housebroken: Yes
Good with dogs/cats/kids: Yes/Yes/Kids frighten her
Likes: Relaxing in my kennel,cheese!, going for walks and hoarding toys
Dislikes: Loud music, Too much activity
Adele is an adorable 6 year old female recently rescued from a breeder release near Sioux City. She is spayed and up to date on her shots. More info to come soon when she goes into foster care.
-update from Foster home
Adele is new to the rescue after life in a puppy mill. She is timid and needs a gentle touch. Adele is spayed and had some dental work when she arrived but is in excellent health. This super sweetie likes to cuddle and has velvet soft fur. Her foster family is working on helping her adjust to her new life of just being a pet. Could she be yours?
-update from Foster home
Adele first came to us extremely frightened of people. She is active and playful at home, especially during outdoor play and enjoys active alpha dogs as companions. She is submissive to cats and enjoys going for walks and earning cheese for coming when called. She responds to the name "Bella" because she's a beauty. Adele prefers to sleep in a kennel at night and goes in her kennel to have her own space when she needs to lay down. New places and new people still scare her a little, but it's less and less with time. Feed her a few snacks and she'll warm right up to you.
Adele is Adopted!
Our dogs love to sleep on Kuranda Dog beds, but we don't have enough for everyone.
If you would like to donate a bed at a special wholesale price for a another dog to sleep in comfort, please donate a Kuranda dog bed.