Name: Bandit-Adopted
Age: 4 Years
Previous Life: Surrendered by a Shelter
Sex: Male
Weight:
Altered: Yes
Housebroken: Unknown
Good with dogs/cats/kids: Unknown
Likes: Unknown
Dislikes: Unknown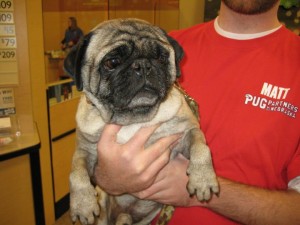 "Hi, my name is Bandit. I am a 4 year old male fawn pug. I am neutered and up to date on my shots. I am potty trained and crate trained. I'm guessing I am 22 lbs., but am not overweight, just big boned. I've got some long legs. I get along great with my foster pug brothers and sister. I also met a few kids who taught me to sit, stay, and down. Boy that was fun! My foster mom says I'm very smart. I really enjoy chasing balls and love to play with soft toys and chew on bones. What can I say, I'm easy. I will hangout in the backyard and just enjoy the freedom. I don't like not getting enough attention and when I have to go to in the crate.
I think I would get along well with other dogs, but still prefers to be the "top dog". I obviously get along well with children who are willing to play gently with me and teach me tricks. That's alot of fun! If you are interested in meeting me go to tp://www.pugpartners.com/our-pugs/pugs-available-for-adoption/bandit"
From Bandit-Adopted!, posted by PugPartners Nebraska on 12/13/2010 (10 items)
Generated by Facebook Photo Fetcher


Interested in adopting Bandit? Click here
Bandit's adoption fee is $300