Name: BJ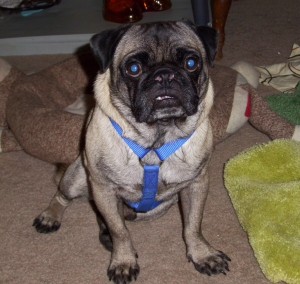 Age: 3 years
Previous Life: Breeder
Sex: Male
Weight:
Altered: Yes
Housebroken: Almost
Good with dogs/cats/kids: Yes/?/?
Likes: Having his armpits scratched
Dislikes: Vacuum cleaners
"Billie Joe (or BJ, as he prefers to be called) is a 3-year-old male pug released from a breeder in Nebraska. Since being taken into the rescue, BJ has been neutered and also underwent a "nose job" to improve his breathing. BJ is currently being fostered in Lincoln, Nebraska. A little shy at first, BJ is definitely warming up to his new foster mom, and enjoys the company of human companions.
BJ immediately fell in love with his foster sister (also a pug) and almost never leaves her side. He regards his foster sister as the ultimate teacher of pug behavior, and takes her lead in every situation. BJ also loves to use her as a pillow, and shows his appreciation by showering her with kisses. But don't worry—BJ's foster mom is sure he won't mind saying goodbye to his foster sister in exchange for a forever family! However, he would greatly prefer a home with at least one other canine playmate. BJ has done well interacting with dogs of various sizes, genders, and temperaments.
BJ is starting to master the leash and is doing an amazing job with housebreaking. He always alerts his foster mom when he's ready to go outside! He almost never feels the need to mark his territory (he has been wearing a belly band at times to curb his attempts during the adjustment period, but BJ thinks he's more than ready to graduate from that silly contraption). His absolute favorite place in the house is the living room sofa. He's pretty quiet and laidback, except when his arch-nemesis—the vacuum cleaner—makes an appearance. He's looking for a forever family who can provide plenty of belly rubs (and maybe a nice couch to snuggle up on). If that sounds like you, please fill out an adoption application—BJ can't wait to meet you!
Happily Ever After Update –
BillyJoe is doing great. He is a fast learner and watches Candy and copies from her a lot also. He has figured out our everyday routine
and knows that he will get to go on a walk every morning and every evening. Because of this he has figured out that he can start bugging
Dave as soon as it gets early morning to get going on the walk. Very important to him. He gets so excited when the harness and leash
come out, he practically jumps right into the harness when we hold it up for him. He does very well on the leash once we get going. Only
go for a few blocks which we will be able to add more once it starts to cool down. Not sure what we will do when it gets snowy and super cold.
Him and Candy do well together, he likes to snuggle with her, which sometimes she will get up and move, I think she probably gets to hot.
He seems less jealous of her then he was at first. I think with time he will learn that he will get the attention and treat the same as she gets
and will be less worried about it. He is very attached to us. Lots of praise and affection, he responds well to that. Almost every
night Candy and him will have a playtime, with the chase and running wild around the house until they wear their selves out. Fun to watch
them play like that.
From BJ-Adopted!, posted by PugPartners Nebraska on 10/19/2010 (4 items)
Interested in adopting BJ? Click here
BJ – Adopted.