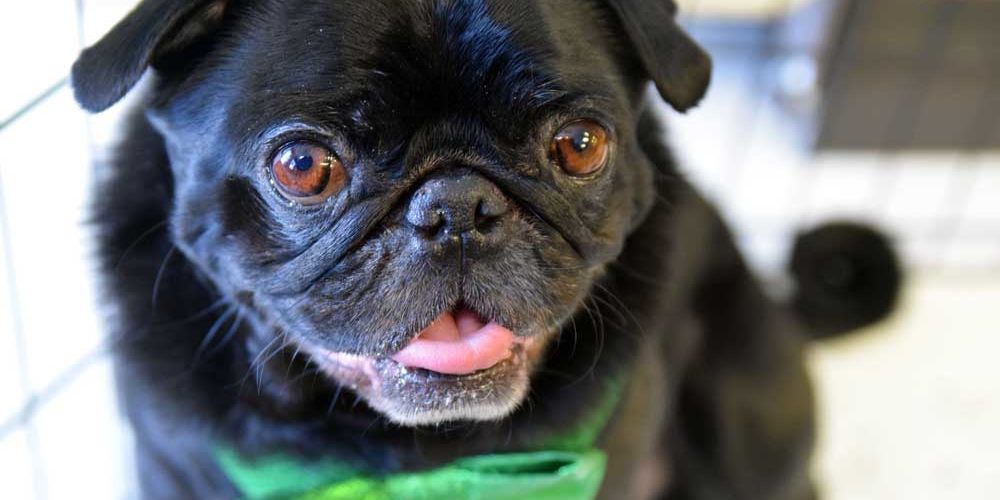 Blaze
Name: Blaze
Age: 8
Previous Life: Owner surrender
Sex: M
Weight: 23 lbs.
Altered: Yes
Housebroken: Yes, if he goes out regularly
Good with dogs/cats/kids: Yes/Unknown/Unknown
Likes: Blankets and fresh laundry
Dislikes: None
Crate trained: Needs a little encouragement to go into his crate and will cry a little at first. He quickly settles down and is very good in his crate.
Fenced Yard: Ideal but not necessary
Special Needs: Separation anxiety. Blaze has a history of infection with his primary facial fold. His forever home will need to diligently clean it daily with baby/grooming wipes.
My name is Blaze and I'm eight years old. I'm very sweet and easy-going. I love to nap with my pug foster siblings but I also have short bursts of energy where I become very playful, rolling in blankets and launching kiss attacks on my foster moms! I love to cuddle and have my ears scratched and belly rubbed.
My previous family surrendered me because I was marking in the house after they had a new baby, but ever since I went into a less-stressful foster home, I haven't had a single accident!
I'm very good at supervising! Laundry, gardening, cooking – you name it and I'll happily follow you everywhere you go! I love to explore the yard and am politely curious about all things. I grunt and snort a lot, especially when I'm excited, but I rarely ever bark. I will whine a little when I go into my crate but don't really mind being in there. Mostly, I cry when being in the crate is not part of my regular routine–I would much rather be out spending time with my family!
I'm such an affectionate, good boy! I deserve a wonderful forever home where I can get lots of love and give lots of kisses! Are you ready for a kiss attack?!
Interested in adopting? Blaze's minimum adoption donation is $275.
Can't adopt, but want to make a big difference in the life of this pug? Become a sponsor today!