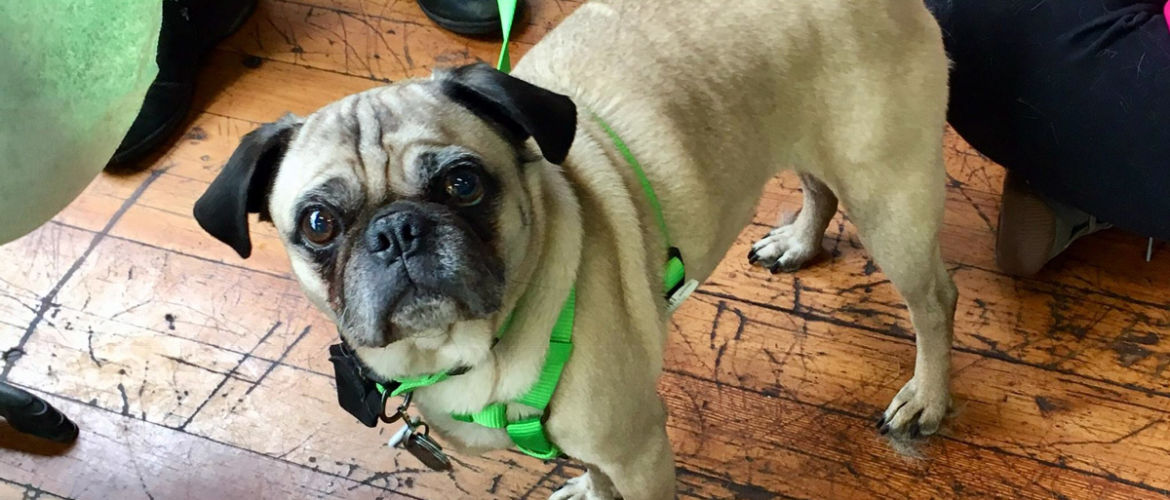 Bo – Adopted
Name: Bo
Age: 9
Previous Life: Owner surrender
Sex: M
Weight: 21.2 lbs.
Altered: Yes
Housebroken: Yes
Good with dogs/cats/kids: Yes/Unknown/No
Likes: Walks, snuggling in a pug pile, being petted and scratched, and lounging around in a calm environment
Dislikes: Young children, sudden movements
Crate trained: Yes, but is not a fan – has some separation anxiety
Requires Fenced Yard: Yes
***Special Needs: separation anxiety and an escape artist that will require a fenced yard – unpredictable when he gets frightened and may try to run. Would do best in a home with another dog.
My name is Bo and I just celebrated my 9th birthday. I was surrendered to Pug Partners due to a change in the dynamics at my previous home. I am current on vaccinations, microchipped, and even had my teeth cleaned. I now have a clean bill of health!
I am a shy pug and not confident. I prefer to be in the background of the environment and not the center of attention like most pugs. Unless it is snuggle time, then I will paw at you when you stop petting me! I am naturally anxious, timid, and cautious. I get extremely uncomfortable in new situations or during transitional times. I have foster fur-siblings that help me throughout the day and during uncomfortable situations. I like older dogs that match my energy level. I am not interested in playing with the furry friends or human friends.
I will need a home without young children, preferably kids 12 years or older that are experienced with pets.
I would like a low-key environment with another dog. I'd prefer an older dog that I can follow around and doesn't mind snuggling with a pug. I do need a fenced in yard because I am, what my foster mom calls me, a "flight risk", due to my unpredictable behavior when I am scared. I would love it if someone would take me on regular walks. I do great on a leash and walking helps with my fantastic pug body!
I have separation anxiety, so it would be nice to be in a home where my furever person is home more often. I enjoy sleeping in the big bed with my foster mom and fur-siblings. I will go in to a crate if needed but I'd prefer to spend as little time as possible in there.
I need someone who is willing to be incredibly patient with me when I first move in. I take a while to settle in since I easily get scared of new environments. Lastly and most importantly, I need someone who will love me like crazy so I can become more comfortable and confident in life. Are you that perfect person who will shower me with all the love that I deserve?
If you feel that you are the perfect home for me, contact Pug Partners to learn how I can become a part of your family.
Bo's minimum adoption donation is $275. Contact Bo's PR team at kjacobs@pugpartners.com.
Can't adopt, but want to make a big difference in the life of this pug? Become a sponsor today!