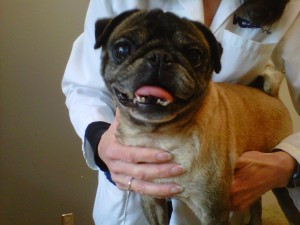 Name: Brandy
Age: 6
Previous Life: Breeder release
Sex: Female
Altered: Yes
Housebroken: Unknown
Good with dogs/cats/kids: Unknown
Likes: Unknown

"Meet Brandy – she is 6 years old breeder release. She will be getting spayed, shots and a dental at the VCA. She will then be placed in a foster home. She is small at 14lbs, and has a bad rear left knee, she walks ok, but noticed she was "prancing" a little bit. We will wait to see if she progresses any more on the knee before we do anything about it, just something to keep in mind. She is not as shy as a "mill" dog but she does crouch when she is approached. **update from the foster family: Brandy is doing good for her first couple of days. Se had a couple accidents the first night, but I'm sure that was just nerves. She's done exceptionally well with house training. She can officially go up stairs, but going down is still a little scary for her, since she is about as tall as my steps.
Once out of her crate either at night when I'm home from work, or in the morning, it takes her about 45 minutes to calm down from running around and checking everything out. She is very inquisitive about all of her surroundings, though she's not fond of walking on lineolium or concrete. Loud noises don't seem to bother her, she only gets scared if she is approached too fast.
We are working on eating on a schedule. She doesn't like the food softened (since she had to have teeth pulled, the vet said to give her soft food). I have only been able to get her to eat in the mornings. I tried leaving food in her crate during the day and at night, but she won't eat any of it.
She loves giving out kisses, chewing on bones and chewing on my fingers if I'm not paying enough attention to her.
"
From Brandy – Adopted!, posted by PugPartners Nebraska on 3/27/2011 (7 items)
Generated by Facebook Photo Fetcher