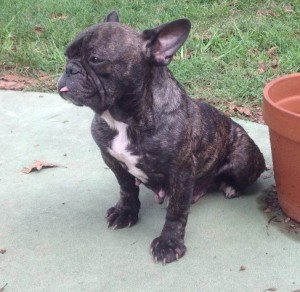 Name: Brinley
Age: 6
Previous Life: Breeder Auction
Sex: Female
Weight: Unknown
Altered: Yes
Housebroken: I'm working on it!
Good with dogs/cats/kids: Yes/TBD/Unknown
Likes: Being loved
Dislikes: Loud voices and sudden movements, being alone (she prefers to have company)
Crate trained: Yes
Sweet Brinley has a rough start in life with living her first 6 years in a puppy mill with little to no vet care. Pug Partners rescued her on a special request and she's on the road to recovery. When she came into rescue she had fleas, demodex, tapeworms and was heart-worm positive. The demodex mange, bacterial and yeast is now negative and her fecal test came back negative. Below is what her foster home has to say about her:
We're still working on housebreaking, but it's going fairly well. She pretty much has peeing outside down, but we're still working on being consistent with poop.
She's been kept mostly isolated from everyone until her skin and worm situation cleared up but so far she seems to have enjoyed meeting our other dogs in the last few days. She doesn't seem especially timid or dominant, but there hadn't been much interaction. Also not too sure on cats yet, she seemed a little curious about our cat, but hasn't seemed inclined to chase her or anything. Kids are an unknown, but I imagine she'd like them. She's been very eager to meet new people and get loved on.
More or less crate trained. She sleeps in a crate in our bedroom at night and stays in an exercise pen during the day. She's on restricted activity since she's heart worm positive.
She loves food! She figured out what treats were very fast and is always excited to see the bag. Chews have also been fairly popular, bully sticks and sweet potatoes being the current favorites. She also loves soft things like towels or beds to lay on and sunbathing. She hates being alone and is still submissive to people even though she's very friendly. She's not a big fan of being picked up and raised voices/sudden movements seem to bother her.
Overall she's a really sweet dog who seems eager to please and I think she'll be a fast learner. She can't get enough affection and it looks like she'll have plenty of energy judging by how much more active she's been getting just in the time we've had her.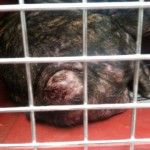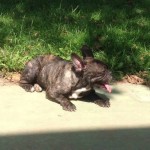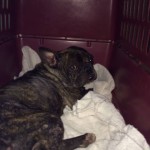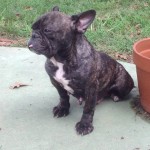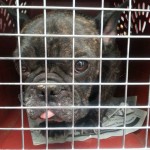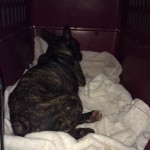 Interested in adopting Brinley?
Click here for more information on the adoption process!
The minimum adoption donation for Brinley is $325