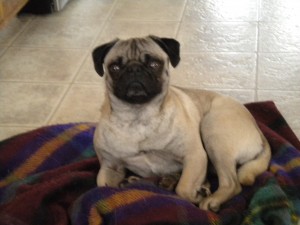 Name: Bubba
Age: 3 Years
Previous Life: Surrendered by his owner
Sex: Male
Weight:
Altered: Yes
Housebroken: Yes
Good with dogs/cats/kids: Unknown
Likes: Unknown
Dislikes: Unknown

"Bubba is a 3 year old male fawn pug. He was surrendered by his owner because she wasn't home enough. Bubba is potty trained and more information is soon to come by his foster family."
From Bubba-Available for Adoption!, posted by PugPartners Nebraska on 1/24/2011 (5 items)
Generated by Facebook Photo Fetcher


Interested in adopting Bubba? Click hereBubba's adoption fee is $300.
Our dogs love to sleep on Kuranda Dog beds, but we don't have enough for everyone.
If you would like to donate a bed at a special wholesale price for a another dog to sleep in comfort, please donate a Kuranda dog bed.