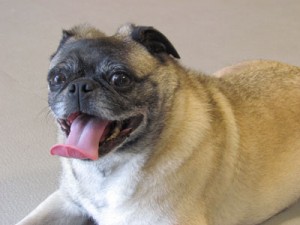 Name: Cecilia
Age: 7
Previous Life: Shelter Release
Sex: Female
Weight:
Altered: Yes
Housebroken: Yes
Good with dogs/cats/kids: Yes/Unknown/Yes
Likes: Unknown
Dislikes: Unknown
This is Cecilia! She's 7 years old and loves to have a great time! Looking forward to hearing more about her from her foster home.
Update from foster home:
Cecilia is super sweet! She's definitly a lover:) She is great with my three year old son and my other three dogs. She fit right in a soon as she came to our home :)  I did discover that she does need to be kenneled as she is quite the escape artist and really likes to get into the trashcan! (My three dogs stay in the kitchen with a baby gate-she is a jumper!)  She really does better with the kennel. She howled the first day or two when I would leave for work but she hasn't since. She is potty trained as far as I can tell! She hasn't had an accident at all! She might have a bit of a food aggression problem. Not major but I would suggest that feeding time is supervised if more than one dog is present. I definetly think she needs to be with a family that either is home a lot, maybe a stay at home mom with kids or at least a family with one or more dogs. I really adore her and wish I could just keep her myself! Just yesterday my son told me, "mommy, I love our Celia"… So cute! Hmmm what else can I say… We are working on manners… We have pretty much tackled sit and stay but are still working on the no jumping… I'm kind of bad about that one because I love my pups on my lap. She loved the car ride today and loves walks!!  All my dogs sleep with me at night and she does as well but she does tend to go back and forth from the bed to the floor throughout the night. I think she'd be ok with either or :) I would hope she would not have to be kenneled at night especially if she is during the day. I close the door to my bedroom and I think she does fine with that confinement!
Cecilia is Adopted!
Our dogs love to sleep on Kuranda Dog beds, but we don't have enough for everyone.
If you would like to donate a bed at a special wholesale price for a another dog to sleep in comfort, please donate a Kuranda dog bed.