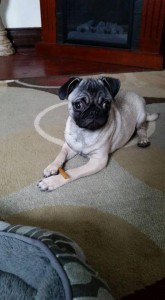 PLEASE NOTE: All of our adoptable dogs are not adopted on a first come, first serve basis. We match the dog with their right family. Please read all of their bio's before applying and if you feel you and your family are a fit, then please read about our adoption procedures here:http://www.pugpartners.com/our-pugs/adoption-procedures
Name: Charlie
Age: 5 months
Previous Life: Breeder Surrender
Sex: M/F
Weight: 12 lbs
Altered: Yes
Housebroken: No (working on it!)
Good with dogs/cats/kids: Yes/Unknown/Unknown
Likes: Loves to play – I'm all puppy!!
Dislikes: Still a little scared of this new life, but I'm learning to trust. Loud noises get me every time though!
Crate trained: Yes
Hi, my name is Charlie. My foster mom says I am all puppy! I love to play with my foster parents and foster doggie siblings. I love to play with toys and chew bones. Oh, heck, who am I kidding? I LOVE to play with EVERYTHING! My foster mom says I'm just like a kid. I play hard and crash hard! At the end of the day, after running around, I love to sleep on the couch next to my foster parents and sibs. I snore, but just a little. My foster sibs like to curl up when they sleep, but I need to stretch out. My foster mom says that's cause I'm still growing. I like people and other dogs. We have a cat in the house and I like to go say hi to the cat. I try to get him to play with me, but he always sits there and looks at me, so I go find someone else to play with. I love to eat, but I am respectful of my foster sibs' dinners. I am not totally house trained, but I hardly ever make a mess in the house and I love to go outside when my foster parents ask me. I sleep in a crate and I really don't mind it. I'm locked in the kitchen during the daytime. I can see my foster sibs through the gate, so I don't feel too lonely. I don't cry or fuss when I'm locked in there. I have my bed and toys, so I don't mind. Mom says it's better I stay in there when she and Dad aren't home in case I have an accident. I need a family who understands the needs of a puppy because my foster mom says I'm ALL puppy. I can't help it. I love to play. My mom is trying to tell me when it's okay to play and when it isn't. Sometimes I bite too hard when I play and mom is always sticking a toy in my mouth. I think she wants me to chew on that instead of her hand. Anyway, I think I would love a family that has the time to train me and love me cause I'm a great girl. Just ask my foster parents!
I will require another younger pug (or small dog) and a fenced yard. No exceptions!
Interested in adopting Charlie? Please see our website and fill out an application at: www.pugpartners.com/adoption-application Charlie's minimum adoption donation is $500.