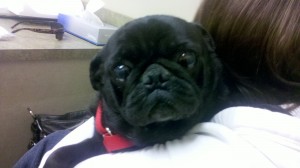 Name: Cole
Age: 4
Previous Life: Owner Surrender
Sex: Male
Weight:
Altered: Yes
Housebroken: Unknown
Good with dogs/cats/kids: Unknown/Unknown/Unknown
Likes:
Dislikes:
Cole is getting his dental and a nose job, he will be all fixed up soon. We are looking forward for an update from the foster home!
Cole is Adopted!
Here is an update from his Furever home:
Well funny story, but the 10 month old baby next door is "Cole" also, and we thought it might provide a distraction… We changed his name to "Tiki". He reminds us of a big Samoan surfer dude, so we think it fits him just fine. He liked the sound of it and he comes right to us when we call, he doesn't seem to miss his old name at all. He is very happy. He was a little timid at first, but more so around the other dogs. Our other pug, Margaret Thatcher, is a bossy pants, so once he just kind of figured out he needs to appease or ignore her, he was fine. So I would saw we've had more trouble with her adjusting to his new life. He loves to be loved, and is just the best cuddler.- when you hold him he likes to put his arms around you and literally hug you! He sleeps with us in our bed and he has a kennel to stay in when we are not home, but he's not been in there much. We've trusted him to just hang out in the house with the other dogs and he's been fine. He is well potty trained, he'll sit by the door or come to you and lick you if he has to go out! I was a little worried about the potty training part because Mrs. Thatcher has had a very difficult time with it. He's very mellow when he's inside and doesn't really play with any toys, but he loves to bark and get all excited when the other dogs do and he loves to take walks. He also likes to play outside (he becomes a lot more animated when he's out there) so we're going to have to watch that in the summer when it gets hot. We laugh because when he barks he sounds like he has a mouth full of marbles, I think he's afraid his tongue will fall out if he opens his mouth too far. Oh the pleasure is ours! We just love this little angel and can't imagine why someone would let him go- but feel so fortunate that he found us.
Our dogs love to sleep on Kuranda Dog beds, but we don't have enough for everyone.
If you would like to donate a bed at a special wholesale price for a another dog to sleep in comfort, please donate a Kuranda dog bed.