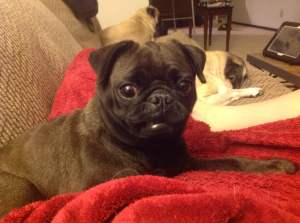 Name:  Daisy
Age:  2
Previous Life:  Owner Surrender
Sex:  F
Weight:  10.5 lbs.
Altered:  Yes
Housebroken:  Yes
Good with dogs/cats/kids:  Yes/Yes/Unknown
Likes:  Cuddling
Dislikes:  None so far
Crate trained:  No
Daisy is a dainty and active two year old silver pug who loves to give kisses and cuddle. She enjoys hanging out with her foster siblings (both dogs and cats) though sometimes she likes to give the cats a little chase in an attempt to play with them. She has a lot of energy so she's not as much of a couch potato as the rest of our herd. Daisy loves treats and chews but doesn't show any signs of food aggression. She loves sleeping next to your pillow and being near you but she's also fairly inquisitive and likes to explore her surroundings. She definitely has a taste for people food so be careful not to leave any where she can reach if you want to eat it yourself.