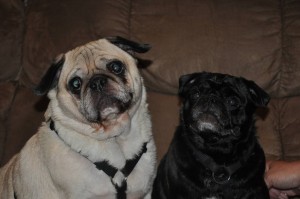 Name: Darla and Spanky
Age: Spanky, fawn – 5 Darla, black 6
Previous Life: Owner surrender
Sex: Male and Female
Weight:
Altered: Yes
Housebroken: Yes
Good with dogs/cats/kids: Yes/Unknown/Unknown
Likes: Unknown
Dislikes: Unknown
Owner surrender as their child was allergic. They are both very sweet and loving dogs, seemed to be potty trained and are getting along fine with fosters dogs.
Darla and Spanky are Adopted!
Our dogs love to sleep on Kuranda Dog beds, but we don't have enough for everyone.
If you would like to donate a bed at a special wholesale price for a another dog to sleep in comfort, please donate a Kuranda dog bed.