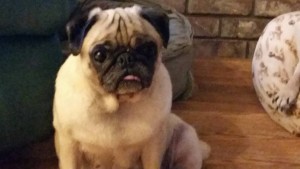 Name:  Dixie
Age:  6
Previous Life:  Puppy Mill
Sex:  F
Weight:  18 lbs
Altered:  Yes
Housebroken:  I'm working on it!
Good with dogs/cats/kids:  Yes/Unknown/Unknown
Likes:  Eating, snuggling, belly rubs
Dislikes:  Still a little unsure of this freedom thing.  She has low vision and is partially deaf.
Crate trained:  Yes
Dixie is absolutely precious! She is not letting a few challenges stand in her way as she explores this new way of life and she is loving it all! Open spaces are intimidating with her low vision, but with time and trust, she works it out just fine.
Dixie is essentially blind seeing only shadows at short distances and very dry eyes. Her hearing is limited, but can she does follow some voice and vibrations. She will need drops and a home with no stairs or gated stairs.
If you think you would be interested in meeting me or if you have any questions about me or one of the other pugs available please complete an application at:
http://www.pugpartners.com/our-pugs/adoption-procedures
Interested in adopting Dixie? Please see our website and fill out an application at: www.pugpartners.com/adoption-application Dixie's minimum adoption donation is $325.