Fani – Adopted
Name: Fani
Age: 5
Previous Life: Breeder release
Sex: F
Weight: 19 lbs.
Altered: Yes
Housebroken: Yes
Good with dogs/cats/kids: Unknown/Yes/Yes
Likes: Snuggle and to tentatively check out the yard & TV
Dislikes: None
Crate trained: Yes
Fenced Yard: Yes
Fani is a most sweet & affectionate dog who has come leaps and bounds since coming into our home. On arrival she was a fearful Puppy Mill girl afraid of men and cautious of humans in general. She is still learning that she has a nice snuggly bed and has yet to use it properly. Her current set up is a pen with her crate in it, a bed in the crate and a blanket half in & out to try and coax her in. She stays nice and dry in there and goes out three times a day. She just wants to please and get lots of love and snuggles. One of her major finds ironically was TV, she is fascinated by it!!! She has no fear of our cats in the home nor our teenage children.
Interested in adopting? Fani's minimum adoption donation is $325.
Can't adopt, but want to make a big difference in the life of this pug? Become a sponsor today!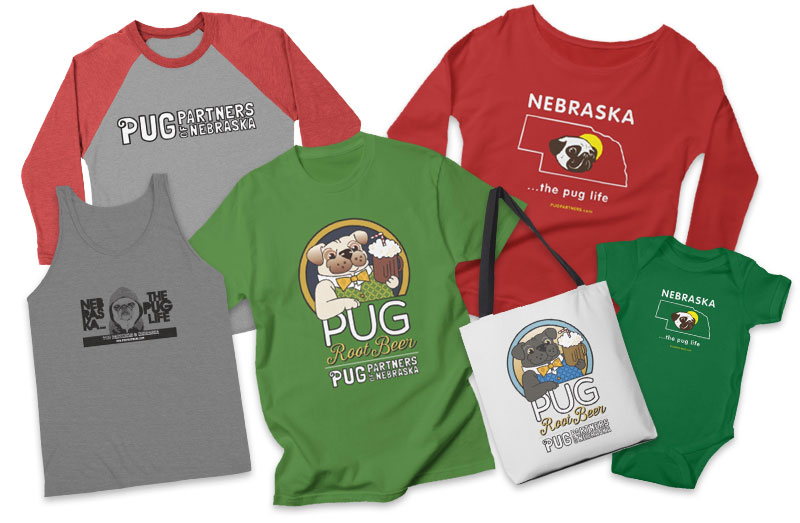 Go Shopping & Help Save Pugs!
Pug Partners now has an online apparel and accessories store. The best part is, every purchase supports our pug rescue efforts!