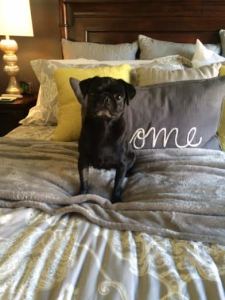 Name:  Faye
Age:  6
Previous Life:  Breeder Auction
Sex:  F
Weight:  Unknown
Altered:  Yes
Housebroken:  I'm working on it!
Good with dogs/cats/kids:  Yes/Unknown/Yes
Likes:  Cuddling
Dislikes:  I'm a tad scared of strangers right now, but I'm working on being more social
Crate trained:  Yes
Faye is absolutely adorable. She is the cutest female black pug you ever did see and everyone that meets her says the same thing. She is very attached to my 10 year old daughter so she does exceptionally well with children and other dogs. She warmed right up to us the minute we got her and adjusted very well to our household. She loves to be on your lap while watching TV and snuggling on you at night at bedtime. She is kenneled during the day and does well but is ready to get out and play at night but is not hyper at all. She does howl if she is left alone upstairs. She is a good eater and is not aggressive at all with food. We are working hard on potty training but the cold weather has set us back a bit. She walks well on a leash but is not able to go downstairs yet. She can run up them but refuses to attempt to go downstairs although I have gotten her to go down 2 of them off the deck. She has been such a sweet addition to our family and overall super easy to have.