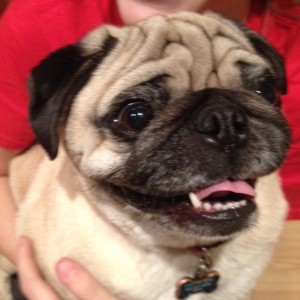 Name: Fushi
Age: 6
Previous Life: Owner surrender
Sex: M
Weight: 24 lbs
Altered: Yes
Housebroken: Not yet, but I'm working on it!
Good with dogs/cats/kids: Yes/Yes/Yes
Likes: Loves his people and other dogs
Dislikes: None
Crate trained: Yes
Hi, my name is Fushi! I am the happiest pug you will ever meet. I just love life and all the fun that goes with it. I have been at my new foster home for a few weeks now and I settled in almost immediately. I love the people the most but my foster pug siblings are a close second. In addition to my foster Mom and Dad, I have 13 year old twin girls and a 16 year old boy that live here with me. I love to play with them and I just gobble up all the attention they give me! I have three foster pug siblings and a cat also lives here. I get along great with all of them. I am a pretty big guy, I weigh in at 24 pounds. We are working on healthy portions and getting a lot of exercise which I really enjoy. I love being out in the yard and racing along the fence with the other pugs any time a car drives by or a leaf or anything else happens to blow by. We get a lot of exercise that way! I am so happy to see my people when they get home, I just wiggle all over. I prefer to sleep on the bed with my people but I do stay in my kennel when they are away from home and I am perfectly happy with that too. I do prefer a little privacy when I eat and I don't really appreciate it if another pug decides to poke its short little nose into my food dish. Let's just say, I didn't get the size I am by sharing food! SOL (Snort out loud). My foster Mom says I am so well adjusted and really have no bad habits. She tells me that I am going to make some lucky family very happy! If you are looking for a happy-go-lucky guy to be your favorite sick-kick, I am just the guy you are looking for!
Interested in adopting Fushi? Please see our website and fill out an application at: www.pugpartners.com/adoption-application Fushi's minimum adoption donation is $325.