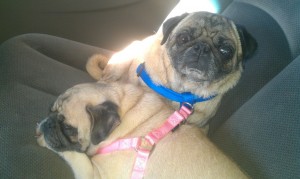 Name: George and Sally Sue
Age: 5
Previous Life: Surrendered by breeder
Sex: Male and Female
Weight:
Altered: Yes
Housebroken: Unknown
Good with dogs/cats/kids: Unknown/Unknown/Unknown
Likes: Unknown
Dislikes: Unknown
George and Sally Sue are 5 year olds from a breeder release. They are bonded and must be adopted together. George is a very energetic,loving 7yr old boy. He has to be the center of attention at all times. He loves to snuggle up on the couch. Sally sue is a sweet, shy 5 yr old girl. She responds to the name mommas. They are both house broke and harness broke. I believe they were breeding partners at the mill for they go crazy when they are separated. They are side by side at all times even when they gets baths they have to be together.
George and Sally Sue are Adopted!
Our dogs love to sleep on Kuranda Dog beds, but we don't have enough for everyone.
If you would like to donate a bed at a special wholesale price for a another dog to sleep in comfort, please donate a Kuranda dog bed.
Update from their foster family:
We named them Penny and Toby. They are adjusting incredibly well. In the short time we have had them, they have learned to do stairs and bound up and down them with our original pug like they have been doing it their whole lives. They love to run in the fenced yard and they sleep in bed with us. They come when we call them and are really amazingly well behaved. They seem to be so appreciative to have a home and it has been so rewarding for my family to have them. It is particularly cool that we got a bonded pair. I have never seen two dogs so attached to each other and they are just so sweet to watch. Although they are very close they have been more than happy to welcome our original pug, Ginger into their circle. I worried about whether they would get along and also how they would get along with our cat. Penny and Toby haven't even looked at the cat! They ignore her like she is a piece of furniture! Kinda weird but it works and the cat is purrrfectly happy too! My favorite thing about them is when we take them out for walks (on a leash of course), Penny and Toby run out ahead and they are shoulder to shoulder with their heads held high as if they are saying, "Look at us, we are free"! I LOVE these guys and adopting them has been one of the greatest experiences as a family. We have three kids, a 13 year old son and nine year old twin girls. Each one has taken responsibility for a pug and it is working beautifully. They have learned a lot about the bad things that happen to dogs and there is no doubt in my mind that this experience will change them for life. When one of them goes, the other one can't be outdone so they go too!   We are looking forward to taking them on a couple camping trips up to Mahoney State Park this summer. We take them out and about with us a lot and they are very good with people. They are getting a lot of new life experiences and seem to be taking everything in as fast as they can! Please do share their happily ever after story!! (I told you I LOVE to talk about them) Thank you so much for making this all possible. I followed the Pug Partners facebook page and website for about four months (as a silent stalker J) before I decided to take the leap and I am sooooo glad I did!! Thanks for all you do for the puggers!!