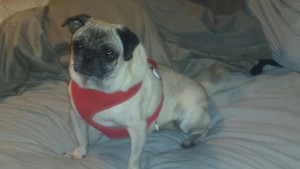 Name:  Harley
Age:  8
Previous Life:  Puppy Mill
Sex:  M
Weight:  Unknown
Altered:  Yes
Housebroken:  I'm working on it!
Good with dogs/cats/kids:  Yes/Uknown/Yes
Likes:  Being cuddled and hanging outside when it's nice weather
Dislikes:  Still cowers a bit when you go to pick him up
Crate trained:  Yes
Hello, my name is Harley. My foster mom tells me I was named after another dog named Harley who received the 2015 American Hero Dog Award. I am honored to be named after him. My foster mom also tells me the name is very fitting for me as I am so very grateful to have been saved from the horrible puppy mill I spent the first several years of my life at. You can tell how grateful I am because I never stop wagging my tail. I love this rescued life. I am just soaking up the hugs, kisses, snuggles, warm beds, and everything else this good pug life as to offer me. In return, I am looking for my forever family to give love back to. I just love my three foster fur brothers as well as my three foster brothers and sisters. My foster mom says I don't act my age. I act like I am much younger as I haven't been able to really be a pug while in the cage so I have years of energy left in me to live the good life. Since being rescued, I just have not met any friends furry or otherwise I don't like therefore, I feel I would fit in with about any family. Due to my years in the cage I do have some weakness in my back legs but my foster Mom says I am getting stronger every day as I enjoy being outside and going for walks. She is also working with me on the concept of stairs. I do still feel some fear when someone tries to pick me up so I cower a little bit but this gets better every day as I am seeing in this life of rescue people are only picking me up to love on me and that I really like. If your family is looking for a furry friend to love, I am your guy.
If you think you would be interested in meeting me or if you have any questions about me or one of the other pugs available please complete an application at:
http://www.pugpartners.com/our-pugs/adoption-procedures
Interested in adopting Harley? Please see our website and fill out an application at: www.pugpartners.com/adoption-application Harley's minimum adoption donation is $275.