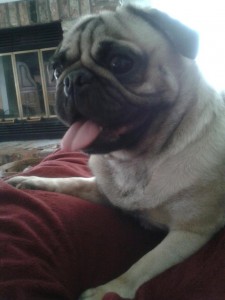 Name: Harry
Age: 1.5 years
Previous Life: Puppymill Auction
Sex: Male
Weight:
Altered: Yes
Housebroken: Yes
Good with dogs/cats/kids: Yes/Unknown/Unknown
Likes: Unknown
Dislikes: Unknown
Hi everyone! I'm pretty special because I'm a puppy mill survivor!! I am 1-1/2 years old, neutered and up to date on my vaccinations. I'm going to foster care within the next day so I will be sure to update you as soon as I know more about my personality living the PUG LIFE! If you think I'm handsome, which I think I am, and feel like I would be a great fit in your family, please fill out an adoption application by clicking on the link below.
Foster Home update – I would have never guessed that Harry came from a puppy mill. He's friendly, energetic. It takes him about 20 minutes to warm up to people, then he's great. So far we haven't had any accidents in the house, but he does wear a belly band for now just as a reminder. He learned how to go up the stairs in about an hour, and we're still working on going down them. His eyes are his only real problem I think. He can see, but not very well. He is a trooper when it comes to the eye drops though, that doesn't seem to bother him. He loves to cuddle, and he hasn't had any issues with the few dogs he's come in contact with.
Harry is Adopted!