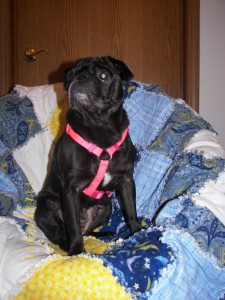 Name: Jazz
Age: 5
Previous Life: Surrendered by breeder
Sex: Female
Weight:
Altered: Yes
Housebroken: Yes
Good with dogs/cats/kids: Yes/Unknown/Unknown
Likes: Unknown
Dislikes: Unknown
She is doing really good but is still shy. She can go up steps but refuses to go down and will run away if you try to help her. She is not quite potty trained but we are working on it. You can tell when she has to go because she tries to climb the wall or when outside a fence right before she goes. She rarely barks but has a cute "groan". She loves her foster pug brother Oliver and they take turns grooming each other. She also loves her foster bully Bella. She loves to sleep on the bed and hates to go in the kennel but she will. She doesn't pull on the leash and likes to run in circles. She is good with kids. She is a very quiet dog. Believe it or not, she doesn't snore!! She doesn't jump up on furniture. We have to carry her down steps and lift her on the bed. She is learning to be a dog. She just learned how to chew on rawhide. She doesn't like human food or dog treats. Jazz may have some vision and hearing issues. All in all she is an awesome little girl.
Jazz is Adopted!
Our dogs love to sleep on Kuranda Dog beds, but we don't have enough for everyone.
If you would like to donate a bed at a special wholesale price for a another dog to sleep in comfort, please donate a Kuranda dog bed.