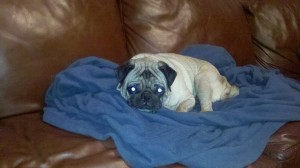 Name: Jessie
Age: 6
Previous Life: Surrendered by breeder
Sex: Female
Weight:
Altered: Yes
Housebroken: Working on it!
Good with dogs/cats/kids: Yes/Unknown/Yes!
Likes: Dinner time!
Sitting by you on the couch
Sleeping in bed (we tried putting her in a kennel at night but she screamed something fierce)
Kids, in fact when we first got her, she would only go to our 6 year old son when he called her
Going up stairs
Gets along well with our 2 other pugs.
Dislikes: loud noises/kennels
Needs work:
Going down stairs
Walking on a leash
Going potty outside
Hides under the deck if we do not take her outside on a leash
Walking in flooring other than carpet. She has troubles getting her footing on the deck and our laminate floors when trying to run/trot or walk fast.
She still shakes and cowers when someone approaches her and takes off when she hears a loud noise, but I'm assuming that both of those will be getter over time and she adjusts to being a dog and not just a baby-maker.
-update from foster home
Jessie is doing VERY well on her potty training; but you have to take her straight outside when she wakes up in the morning and right after dinner. Other than that, she goes outside every couple of hours or so with our other pugs. We are trying to teach her to go to the door when she needs to go, but we've got quit a ways to go yet. But she has made WONDERFUL progress!!! She's also learned that she gets a treat when she potties outside and if you forget to give her one, she lets you know!
Jessie is also doing better about being in her kennel (she's only in her kennel when my husband has to run errands and I'm at work). She still screams, but she calms down after a bit. We have also learned that she needs to go outside before being put in her kennel to prevent accidents. She still has accidents in her kennel every once in a while, but it's much better than when we first got her.
We took her to the vet last Thursday to have her staples removed. She also had her first spa day and loved it!!! Jessie enjoyed her bath, getting her nails done and being brushed. She did not however like the blow dryer, so they had to towel dry her. When she came home from her spa day, she just pranced around the house like she was saying 'look at me…I'm such a pretty puggie!'
Jessie no longer seeks refuge under our deck. We can let her in the back yard without her leash. She runs around the backyard, plays with our other pugs and does her business. Jessie is also becoming more trusting and takes food out of our hands.
Jessie still struggles with going down stairs. She acts like she wants to do it, but is scared so we are still working on that.
Happily ever after update. Jessie is doing great and is a wonderful addition to our household. We tried out several other names, but decided to keep her named Jessie (it fits her). Her nickname is "Bat Girl" since the black marking on her forehead looks exactly like a bat : )
Jessie is getting along great with Einstein and the Kitties. I don't think Jess even realizes they are cats or that she is by nature suppose to chase them. Two nights ago she was sleeping on the Cozy Sac right between our two big male cats.
Jessie is really coming out of her shell. She jumps around and plays now, and is starting to "talk pug" when she gets really excited. Our biggest challenge remains stairs. She has mastered our outside deck and cement stairs, but will have nothing to do with our wooden inside staircase. Hopefully with time she'll figure them out.
Jessie is adopted!.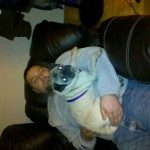 Our dogs love to sleep on Kuranda Dog beds, but we don't have enough for everyone.
If you would like to donate a bed at a special wholesale price for a another dog to sleep in comfort, please donate a Kuranda dog bed.