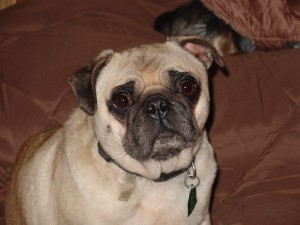 Name: Joe
Age: 4
Previous Life: Owner Surrender
Sex: Male
Weight:
Altered: Yes
Housebroken: Yes
Good with dogs/cats/kids: Yes/Unknown/Unknown
Likes: Snuggles
Dislikes: Unknown
Joe is a 4 year old fawn neutered male. When he was rescued, he had a severe yeast infection in his skin and had big bare patches everywhere. We were able to get that under control and he has healed completely. He has a beautiful soft coat now. He is extremely well house trained as there have been no accidents at all. He gets along well with all our dogs of assorted sizes and has a very kind soft disposition. He finds our cats interesting and gets along with them as well. He loves to be petted and snuggled and will make someone an outstanding dog. If we were not at our limit, he could stay with us. He has the beginning of keratitis pigmentosa so he will need cyclosporine drops twice a day for the rest of his life. A bottle of drops costs around $25.00 and lasts for approximately 2 months so the extra expense is not too bad. You just have to tell him it's time for eye drops (usually in the morning and at bedtime) and he will come right over and sit patiently to get one drop in each eye. He tested heartworm negative and has been on preventative. He is up to date on all his shots.
Joe is Adopted!
Our dogs love to sleep on Kuranda Dog beds, but we don't have enough for everyone.
If you would like to donate a bed at a special wholesale price for a another dog to sleep in comfort, please donate a Kuranda dog bed.