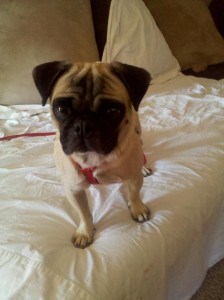 Name: Jack Black
Age: 4
Previous Life: Surrendered by owner
Sex: Male
Weight:
Altered: Yes
Housebroken: working on it!
Good with dogs/cats/kids: Yes/Unknown/Unknown
Likes: Unknown
Dislikes: Unknown
Joey is a 4 year old fawn pug from an owner surrender. Joey has escaped from the foster home twice and is quite a little Houdini. You must have a great fence and probably need to keep a good eye on this little guy because he could give you quite a panic attack. Other then his Houdini skills he is a warm snuggly, sweet pug.
Joey is Adopted!
Here is an update from his furever home:
So we decided to come up w/a name that would suit him and how we felt about him and the one name we came up with is "Chulo" which in Spanish means Beautiful/Gorgeous/Cute-ness. We started testing it out on him and he responds and knows that THAT is his name and he has adjusted well to it.   However, prior to doing so I had asked his foster mom if Joey was his original name and she said it was not that Joey was the name that they had given him and he answered to it.  But so far "Chulo" has stuck and he is answering to it and seems to be okay with it. As for fitting in, I think he is doing a pretty good job of it! He has not been dominate at all w/our two older pugs Maude-12 yrs old or Cheyanne-13 old. He also has been very playful w/our cocker spaniel, Meshach.  His first day meeting Meshach he wasn't too sure.  He went up to Meshach and got a little sassy w/him and Meshach just looked at him like "Okay, you can bark, good for you!" LOL!  Now they are running laps in the back yard and in the house like it is a speed track.  I know last week I got a phone call at work from my Mother letting me know that it was quite the circus show at home w/both dogs and my son running around, playing and having a great time! AND he has not had any attempts or escapes at all out of our back yard – even though we have a 6 foot privacy fence he has not attempted to get out of the yard by digging or anything like that. So far Chulo has been very, very affectionate!  LOVES to be held, cuddled and pampered!   So far no questions of PPN but we sure appreciate all you guys have done for us and for letting us share this joy w/our family. He enjoys laying on my son's bed on top of all the pillows sleeping but w/his nose/head kind of behind the curtain because during the day that is HIS spot to lay at.  He likes to look out the window and look out into the yard and the neighbor's yard to check out the other pooches out there!  And you can see him on Sunday lounging around on my husband's belly sacked out watching football, snoring…living a "ruff" life! ;0 )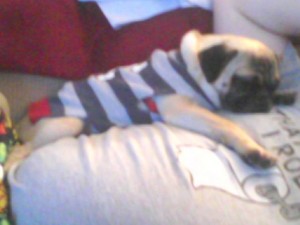 Our dogs love to sleep on Kuranda Dog beds, but we don't have enough for everyone.
If you would like to donate a bed at a special wholesale price for a another dog to sleep in comfort, please donate a Kuranda dog bed.