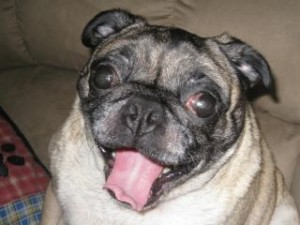 Name: June
Age: 6
Previous Life: Surrendered by breeder
Sex: Female
Weight:
Altered: Yes
Housebroken: Working on it!
Good with dogs/cats/kids: Yes/Unknown/Unknown
Likes: Snuggle time
Dislikes: unexpected movement
Update from foster home – She is doing very well even though she can still be a
bit "flinchy" when you move too fast for her liking. She seems to do
well with my pug, Missie and she does get the puggy happies and does
zoomies around my apartment. :) She loves home cooked dog food mixed
in with her kibble and is as lovable as can be. She adapted to
sleeping in the big bed immediately and loves to snuggle up close. She
does have problems getting up onto the couch or onto the bed and has
to be lifted up. She also still needs work on potty training but we're
working on it. Shes absolutely sweet enough to overlook any problems
she might have.
June is Adopted!
Here is an update from her Furever home:
Yes we kept the name of June but added bug to it. Her name  is June Bug. She is adjusting  well and every day it gets better and better , she seems to be very happy. At times it  even looks like she has a smile on her face. She loves when we go outside and loves to be chased. She does the pug run, tucks tail and rump down and away she goes. She is now walking on all types of floors. We are now working on steps, and having a collar and leash on so we can go on walks. She is just a joy and we love her very much, I hope we can erase all those bad memories away. We know that she will be giving us so much joy in the years to come. I just want to tell you how much we appreciate all that you and everyone at PPN do for these pugs dogs. You are the angels that rescue them and give them a chance at a happy life . I hope and pray that all the pug dogs find there furever homes.
Our dogs love to sleep on Kuranda Dog beds, but we don't have enough for everyone.
If you would like to donate a bed at a special wholesale price for a another dog to sleep in comfort, please donate a Kuranda dog bed.