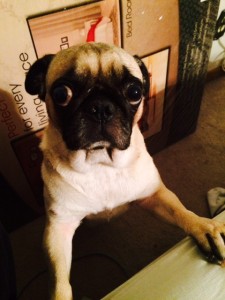 Name:  Ladybug
Age:  7
Previous Life:  Owner Surrender
Sex:  F
Weight:  Unknown
Altered:  Yes
Housebroken:  Yes, but I'm just getting over a urinary tract infection.
Good with dogs/cats/kids:  Yes/Yes/Yes
Likes:  Snuggling
Dislikes:  Being left alone, but I'm adjusting!
Crate trained:  Yes
Hi – My name is Ladybug.  Unfortunately, my human mom had to go into a nursing home to get the care she needed.  For several months, she tried to get better and did not want to give me up.  The bad part was, I was in my home for that time with only a friend of my mom's to let me out and feed me a couple times a day.  I was very lonely.  That's when Pug Partners found me and sent me to my foster family.  I had a really bad urinary tract infection, but we got that cleared up so I'm healthy again now.  I'm doing much better with not having accidents – I mean give me a break, I had an infection and very little human interaction for a few months.  I have never been a fan of my feet getting cold or wet!  So, when it's snowy, cold, or muddy… I do not like walking outside, so you'll have to really encourage me on those days to go potty out there!  I also like you to be there with me with a leash, because it will take a while for me to figure out my boundaries.
My foster family has two other pugs and three kids.  Wow!  I have never been around so much action.  These kids are great and I absolutely love playing with them.  I get along very good with my laid back pug foster brother, but my foster sister Sassy gets under my skin a bit.  She thinks she is the boss!  I would prefer a home where I get to be the boss.  One thing I like to do is stay close to the door and take any opportunity I can to sneak out.  My foster family thinks I haven't been around cars much, because the couple times I successfully snuck out the door, I wandered around the whole neighborhood without a care in the world… HaHa!  They had to chase me down, it was really fun!
As you can imagine, I'm not really fond of when my family leaves the house.  I think I got a little separation anxiety from the months I spent lonely in my house.  But, my foster family has to work, so I'm getting used to spending a few hours in my spacious kennel during the day.  I pretty much just take a nice nap!  I have been sleeping in the bed with my foster family.  They really spoil me.  I snore once in a while, but not too bad.  I kind of like snuggling and sleeping with someone at night – it's that separation anxiety thing.  I'm looking forward to finding my forever home.  The people at Pug Partners promised me that I'll never have to be lonely again.  What a relief!