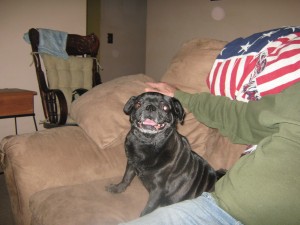 Name: Leah
Age: 7
Previous Life: Surrendered by breeder
Sex: Female
Weight:
Altered: Yes
Housebroken: Yes
Good with dogs/cats/kids: Unknown/Yes/Unknown
Likes: Unknown
Dislikes: Crates!
Leah is a beautiful pug born 7/19/2004. She is having dental, will be spayed and some much needed attention from the vet. Leah is house broken, she will go to the door when she wants out. She does stairs up & down. She barks when someone comes to the door, unusual for a mill surviver, no? She knows her name and will come. Walks well on a leash. Cats are no big deal, she checked them out and now ignores them. She will play wrestle around with Rich on the floor and she fetches now & then. She also will play with toys. Leah has not always been a mill dog in my opinion. She has not bitten or even offered to bite any of the men she has been exposed to today at the vets or with Rich. We will be testing how she does when the grandsons 4 yrs and 1 yr are here to visit but I forsee no problems with her. She is a cuddle bug, sleeps on the foot of our bed all nite. She never moves until we get up in the morning. She travels well too once you get going, a little antsy at first then lays down and enjoys the ride. She is not fond of crates
Leah is Adopted!
Here is an updat from her Furever home:
Leah has fit in perfectly, my other Pug "Mokie" just loves her.  I was kinda worried, but he made her feel right at home, he gives her kisses all the time.   This past Saturday I took Leah and Mokie to a Pug xmas party at the Kennel Inn, and they had a blast.  I am so glad she is with us, we love her.
Our dogs love to sleep on Kuranda Dog beds, but we don't have enough for everyone.
If you would like to donate a bed at a special wholesale price for a another dog to sleep in comfort, please donate a Kuranda dog bed.