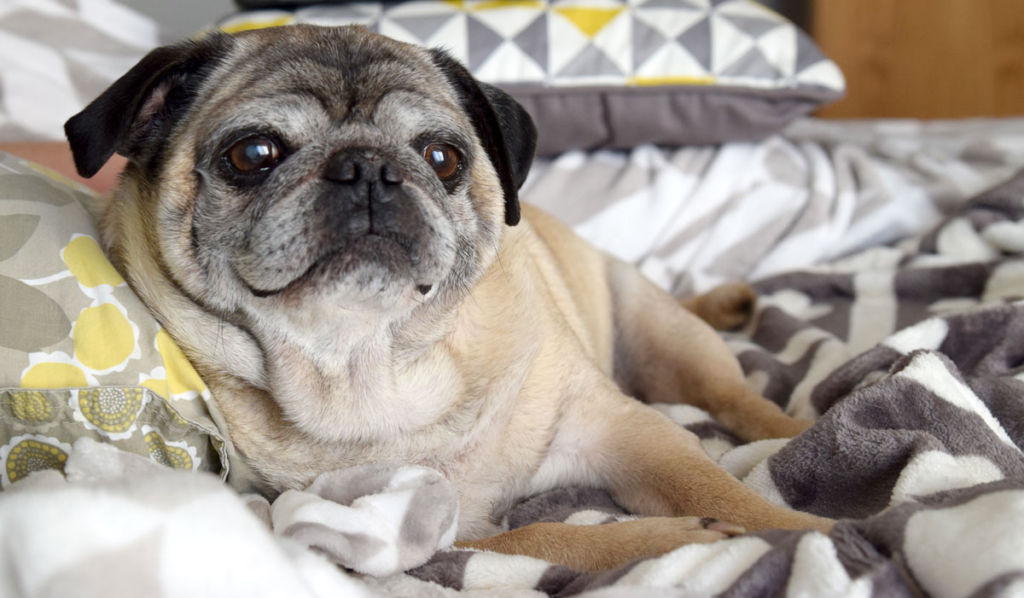 Leroy Brown
Age: 10 years old
Previous Life: Owner Surrender
Sex: M
Weight: 22 lbs
Altered: Yes
Housebroken: Leroy knows to potty when he goes outside, but he needs frequent trips outside to prevent accidents since he still has some incontinence issues
Good with dogs/cats/kids: Yes/Unknown/Unknown
Likes: Laying in sunbeams, getting belly rubs
Dislikes: None
Crate trained: No
Special needs: Leroy would do best in a home with someone who is home during the day so he can be let outside regularly to avoid accidents
Hi, I'm Leroy Brown! I was originally rescued from a junkyard in Minnesota (who's ever heard of a junkyard pug?) but I was taken indoors and I like it much better. Pug Partners took me in after my previous owners couldn't take care of me any longer. I had a bladder infection and I had so much weakness in my back legs that I couldn't walk. Pug Partners treated my infection, took me to physical therapy and gave me medical supplements to help with my joints. I'm so happy that I can walk now so I can follow my foster parents wherever they go in the house. I hate to miss any of the action!
I'm a very sweet, loving boy and I love to be around people, especially if they'll give me belly rubs! During the day I follow the sunbeams as they move around the house – they make the best spots for napping!
Come visit me at a Meet & Greet and see for yourself just how adorable I am!
Interested in adopting? Leroy's minimum adoption donation is $250.
During March you can adopt Leroy or another senior pug (9 years or older) for $50 off their regular adoption fee.
Can't adopt, but want to make a big difference in the life of this pug? Become a sponsor today!