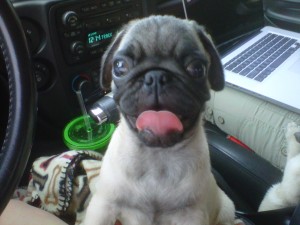 Name: Linus
Age: 9 months
Previous Life: Breeder
Sex: Male
Weight:
Altered:
Housebroken: Working on it!
Good with dogs/cats/kids: Yes/Yes/Yes
Likes: Unknown
Dislikes: Unknown
Hi my name is Linus – I am 9 weeks old, breeder surrender and full of love. I get a little scared sometimes but once I am used to you I want you to run around and play with me. I have been wearing a diaper when I'm in the house because I am not potty trained yet, but ill get there soon. I have a problem with one of my eyes, but I can see out of it still – my other eye is perfectly fine though.
Linus is adopted!
Here is an update from Linus' furever home:  Linus has seemed very well adjusted since the time we brought him into our home.  He sleeps in the kennel at nite and never whines, he loves to snuggle on the couch, he always makes a b-line for Sarah's dogfood every single time he comes in from outside!!  Sarah has found a playmate in Linus that I think she was really missing.  They will literally chase each other around the back yard sometimes for 15 mins just running and playing.  My youngest son, loves to walk Linus. He loves having Linus in the house.  My older son just moved away to college, but when he comes back, he always has Linus in his lap. Linus is everything we were looking for in another dog and more.  We love him.  He is a wonderful addition to our family!