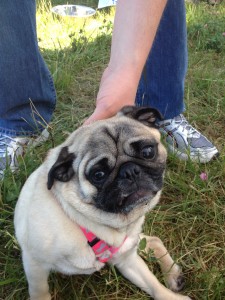 Name: Lisa
Age: 3
Previous Life: Breeder Release
Sex: Female
Weight:
Altered: Yes
Housebroken: Yes
Good with dogs/cats/kids: Unknown/Unknown/Unknown
Likes: Unknown
Dislikes: Unknown
Lisa is in foster care and has came out of her shell really well and is so happy living out of a cage!
Update from Foster home –
Hi, I'm Lisa.  I'm 3-4 years old.  I was a puppy mill ma-ma and had my fair share of little ones before being rescued.
 
I get along very well with my Pug foster brother and love all the attention from my two legged foster brothers & sisters. I am very attached to my people and want to be with them whenever I can, usually flipped over onto my back to get my belly scratched or in bed snuggled in. Probably my favorite thing is to go for rides in the car. I really like going outside to explore and play. I was little chubby and very skittish when I first came to my foster home, but now I am slimming down with all the freedom to run around I get and I am very outgoing.
Having spent most of my life in a kennel, I am still learning some outside world etiquette, like not to jump up on you when I am so excited. I am learning to climb up and down stairs, but I am still not very good at it. I do just fine in roomy kennel for a few hours at a time, if you really must leave me. I am doing well on not having accidents in the house; just get me out ASAP in the morning and shortly after I eat.
 
I have had my dental work done, and am all done having babies. I seem to otherwise be pretty darn healthy. If you are looking for a lot of love in a little package and have a little patience while I continue to perfect my manners, please apply to adopt me!
Lisa is Adopted!
Our dogs love to sleep on Kuranda Dog beds, but we don't have enough for everyone.
If you would like to donate a bed at a special wholesale price for a another dog to sleep in comfort, please donate a Kuranda dog bed.