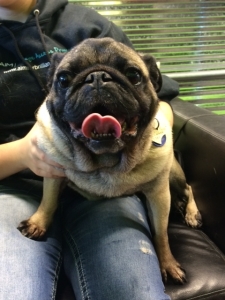 Name:  Lucy
Age:  7
Previous Life:  Owner Surrender
Sex:  Female
Weight:  25 lbs. – I'm on diet
Altered:  Yes
Housebroken:  Yes
Good with dogs/cats/kids:  Yes, but can be food aggressive/Yes/Unknown
Likes:  Playing fetch, tug-of-war, snuggling
Dislikes:  I may play bite your face when I'm excited.  My foster mom is working with me on that.  I don't like other dogs around my food either.  Duh, I'm on a diet and need every ounce of food I can get!!  I will need to be fed away from other dogs.
Crate trained:  Yes
From her foster home: Lucy is an absolute joy to have around. She is quite comical and vocal/bossy about what she wants and when she wants it and has earned the title of "Big, Beautiful & Bossy."  Being a bigger girl, she still has quite a bit of energy and would benefit from daily walks to minimize that energy and help aid in weight loss. She is a sweet girl with a lot of love to give and strives for attention. She is already house trained and crated trained but loves to sleep in bed at night snuggling close with her foster family at night.