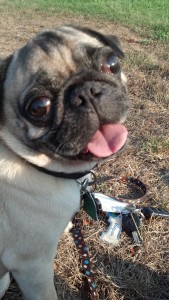 Name: Max
Age: 4
Previous Life: Surrendered by breeder
Sex: Male
Weight:
Altered: Yes
Housebroken: Unknown
Good with dogs/cats/kids: Yes/Yes/Yes
Likes: Unknown
Dislikes: Unknown
Update from adoption family:
Max is doing so well in his new home. When he first got in our home he couldn't do any stairs and now he has learned to run up stairs with great gusto. He also had potty training issues a lot when we first got him but now that we have him on a routine of a nightly walk and going out more frequently he is now mastering that too. Our German Shepard Chloe and Max like to play chase and they cuddle together. He is great with our two kids. The best part about Max is that he is so full of love. He loves to cuddle in bed with us at night. We have discovered that he has different snorts for different reasons. We love to hear his happy snorts. Whenever I fell down all I have to do is look at little Max and see his adorable pug face and know that even though he had a horrible first few years of his life as a breeder dog he has learned to love a new family. Our family truly loves him. He is such a sweet and happy guy and we are so thankful we have him!
Max is Adopted!
Our dogs love to sleep on Kuranda Dog beds, but we don't have enough for everyone.
If you would like to donate a bed at a special wholesale price for a another dog to sleep in comfort, please donate a Kuranda dog bed.