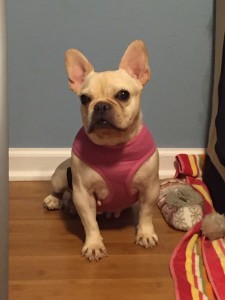 Name:  Mindi
Age:  8
Previous Life:  Breeder Auction
Sex:  F
Weight:  18 lbs
Altered:  Yes
Housebroken:  Not yet, but I'm working on it!
Good with dogs/cats/kids:  Yes/Yes/Yes (older children above the age of 13)
Likes: Being outside and running in the yard (MUST have a secure fenced in yard) and must have at least one other dog sibling.
Dislikes:  I'm very timid still
Crate trained:  No
My name is Mindi and I am a puppy mill survivor! I was rescued by Pug Partners of Nebraska and now I am out of the cage and free to dance!  I am looking for the love of my life, literally. You see I am still learning to adjust to life outside of a cage and I'm going at a pace I'm comfortable with. I love attention but try not to show that to anyone because I'm a little scared to let my guard down. I ride well in a car but am still learning to master having a harness and a leash and just prefer to be carried everywhere. I would do well with someone who can take me to work with them or be with me most of the time so I may learn to trust and bond. I'm also starting to find my play with the resident dogs and I will run around like crazy and make you laugh!
I haven't quite gotten the hang of not doing my business in the house yet but I'm working on it and my foster family is understanding about how my prior life has affected me. Prior to rescue, I hadn't had any socialization and I really would like a family that I can trust and that is very patient and understanding with me as I go at my own pace. My foster Mom says once I do find the love of my life that I will never leave there side and will be so loving and loyal. Could you be the love of my life?
P.S. Patience, understanding and a gentle hand are a must.
Love,
Mindi
Interested in adopting Mindi? Please see our website and fill out an application at: www.pugpartners.com/adoption-application Mindi's minimum adoption donation is $400.