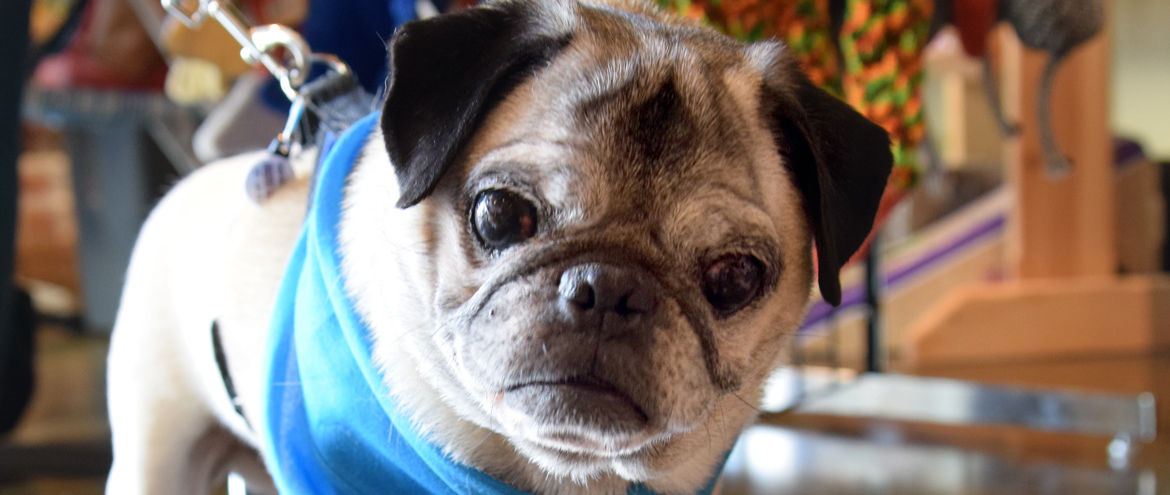 Mocha
Name: Mocha
Age: 12
Previous Life: Owner Surrender
Sex: M
Weight: Unknown
Altered: Yes
Housebroken: Yes
Good with dogs/cats/kids: Yes/Yes/Yes
Likes: Going for walks and playing with my foster parents
Dislikes: None
Crate trained: Yes
I'm Mocha, a lovable, easy going pug! I'm 12 years old, you would have a hard time telling it because I'm very playful and energetic!  I love to chew on toys and will play tug of war. I love to lay beside my foster family on the couch and get my belly rubbed.
I can't see well or hear well, but neither of these issues slow me down! It took me only a few hours to adjust to my foster family's home and yard. I won't go down stairs, but I have no problems going up stairs.
I'm not bothered by other dogs or cats. Sometimes I bump into them because I can't see them, but I just keep going. I really enjoy walks and I'm not afraid of new places. I love to play with my foster family's 5 and 3 year old grandchildren and I like to give lots of kisses. I'm such a good boy, I'm house trained and crate trained, but I haven't used a crate at my foster home, since I'll sleep in a doggie bed with no problems.
My foster family says I'm a real sweetheart and very well behaved. I'm a real low maintenance dog and will make someone a wonderful companion.