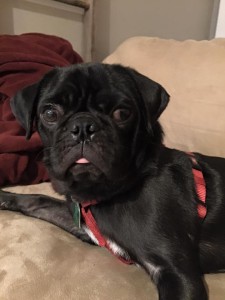 Name:  Moe
Age:  2
Previous Life:  Owner Surrender
Sex:  M
Weight:  20 lbs
Altered:  Yes
Housebroken:  Yes
Good with dogs/cats/kids:  Yes/Unknown/Yes (9 years and older)
Likes:  Going on walks
Dislikes:  A little leery of women at first and a skittish with sudden movements
Crate trained:  Yes
Moe is a fun loving, energetic pug. He loves to go on walks and his chew toys. He is a little afraid of women at first but warms up quick. He is a little more independent then most pugs I have ever known unless you are near the kitchen then he's right there. He will sleep on the couch while you watch TV at night though. We are working on basic commands but he seems eager to learn. He is more of a dominate dog, but haven't had any major issues with that.
Personality Traits:
He is a dominate dog.
This dog needs walked on a daily basis.
He needs to be crated when away unless your house is totally picked up then I would test it for short periods of time.
He is lacking a lot of manners but is quickly learning. Foster home is working with him and believes he will be highly trainable.
Please note: Moe will require eye drops for the rest of his life due to dry eye.
Interested in adopting Moe? Please see our website and fill out an application at: www.pugpartners.com/adoption-application Moe's minimum adoption donation is $400.