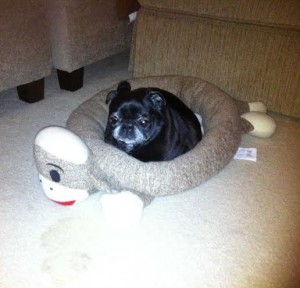 Name: Molly
Age: 12 years
Previous Life: Owner Surrender
Sex: Female
Weight: 14lbs
Altered: Yes
Housebroken: Unknown
Good with dogs/cats/kids: Unknown/Unknown/Unknown
Likes: Unknown
Dislikes: Unknown
Molly gets along well with her three foster siblings, including at mealtimes. She is constantly following her foster daddy about the house, and loves to lay against his feet when he stops or sits down.
Although she doesn't appear to hear well, she is a chatty girl all the same. She is most vocal when she wants food or attention, or when she sees that daddy's leaving the house. Her foster mom says she barks with a New York accent!
She has her meals and meds twice a day. She has free run of the house 24/7, which lets her get her exercise whenever she wants it.
Molly does have some issues with her bowl habits due to neurological issues. She will go outside sometimes but sometimes things just don't happen. She doesn't seem aware of it. She is going to treatment to hopefully help with some of these issues.
She is a great eater! Molly has truly been a joy to have in our home. She is a special little girl (just over 14 pounds) with some special needs who is destined to make her forever family very happy.
Interested in adopting Molly? Click here Molly's adoption fee is $175.