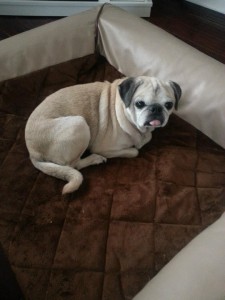 Name: Moo
Age: 9
Previous Life: Owner surrender
Sex: F
Weight: Unknown
Altered: Yes
Housebroken: Yes
Good with dogs/cats/kids: Yes/Yes/Yes
Likes: Exploring the great outdoors
Dislikes: None
Crate trained: Yes
Moo is a very sweet dog with lots of spunk left in her. She loves to be around people and loves to nap near you. She gets along well with other dogs although she isn't as interested in play time with them. She loves to explore outside in the yard and has done really well with doing her business when you let her out. She has an occasional accident in the house when left out during the day, but overall is mostly house trained. She sleeps in her crate at night and very rarely wakes up during the night and will usually only cry for a few minutes if she does. She has been a great dog that is very easy going and has never shown any signs of aggression with eating, being picked up, or around other dogs.
Interested in adopting Moo? Please see our website and fill out an application at: www.pugpartners.com/adoption-application Moo's minimum adoption donation is $275.