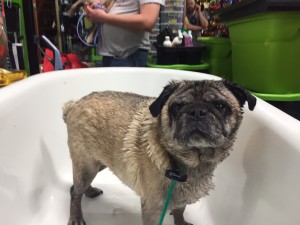 Name:  Otis
Age:  9
Previous Life:  Owner surrender
Sex:  M
Weight:  41 lbs (I'm a big boy, but I'm in the process of a lifestyle change)
Altered:  Yes
Housebroken:  Yes
Good with dogs/cats/kids:  Yes/Yes/Yes
Likes:  Snuggling, napping, light walking (for my lifestyle change)
Dislikes:  Sudden movements sometimes scare me
Crate trained:  Yes
My name is Otis. I am looking for my new furever home. You would never guess this by looking at me but I am 9 years old! I'm an owner surrender. Due to changes at my previous home, I am now looking for my new furever home. My mom says that I do not act my age and that I act like a young pup (I feel like one too!!). I am such an easy-going pug. I get along with kids, cats and other dogs. I do get a little scared of loud noises and will bark when I am scared. Otherwise I am pretty quiet (other than my puggie snorting noises).
I am such an easy going guy! If you want someone who will be by your side, I am your pug. I love snuggling, attention, playing, snuggling, watching you, being petted, snuggling, food, a good back scratch, car rides, and oh did I mention… SNUGGLING?! As long as I am with you, I am happy. I don't like loud noises, my face being touched, being approached too quickly, or being left alone if you are home. If you are home and ignoring me or won't let me lay next to you, I do whine a little bit. So you if you are watching TV or reading a book, I am happiest if you will let me lay next to you or by your feet.
Great news on my health: The vet said that I am one healthy pug at my age! I have no health issues other than working on my diet (I am sure you noticed). Since I need to lose some weight, I do breathe heavier (my foster mom says I am a "snorty" pug). However, the vet said if I work on my weight, I will be able to breathe better. If I can keep up on my diet, I should remain a happy and healthy pug! My new home will have to be able to say no when I want extra treats or food from the table. I am cute and it can be hard to say no to my handsome face! I also need an exercise partner that can help me lose weight and keep it off.
Interested in adopting Otis? Please see our website and fill out an application at: www.pugpartners.com/adoption-application Otis' minimum adoption donation is $275.