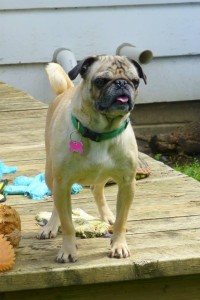 Name: Piper
Age: 7
Previous Life: Shelter
Sex: Female
Weight: Unknown
Altered: Yes
Housebroken: Yes
Good with dogs/cats/kids: Yes/Yes/Yes
Likes: Bones, Treats, Cuddled
Dislikes: Getting her princess toes wet on grass
Crate trained: Yes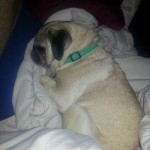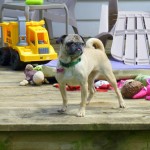 From Piper's foster mom:
Piper is a total sweetheart. She is 7 years old and house trained. She is crated trained in that she goes in voluntarily and doesn't mess as long as it's a reasonable amount of time, that's not to say that she never barks after first being left in the crate. But she doesn't carry on and on, she settles down and stops. She enjoys bones, treats, sleeping in bed at night, being pet, cuddling, rubbing herself all over the furniture……So far she's not too into toys, but we're still trying different ones out. She gets along with dogs big and small and she likes to chase cats, but she isn't mean to them and only chases them when they run. If they're just hanging out, she won't bother them. She can be a bit vocal from time to time, but she is learning when and how much is appropriate and what is unnecessary, :). She seems to want to play with her my dogs, but my dogs tend to take a little more time before they wrestle around with the new fosters and most of them are significantly larger than her. She is my little puggy shadow and follows me wherever I go. She gets excited, but she is for the most part, pretty laid back. I'm told she enjoy car rides, but haven't fully tested that out. She enjoys licking. The only thing I'd say as far as dislikes is that's she doesn't seem to enjoy the wet grass from all the rain we've been having, but it doesn't stop her from doing what she needs to do. She would really be a good fit for a variety of homes.