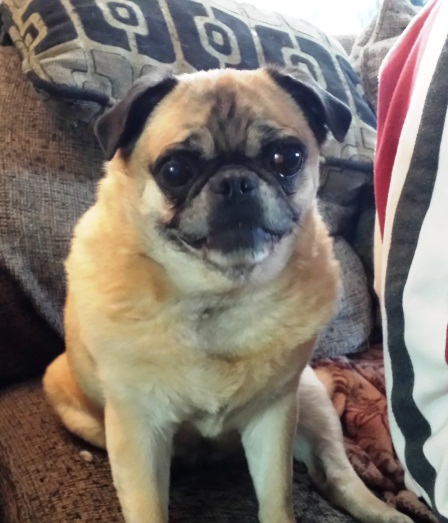 Name: Poinsettia
Age: 7 years
Previous Life: Owner Surrender
Sex: Female
Weight: 17 lbs
Altered: Yes
Housebroken: Yes
Good with dogs/cats/kids yes/yes/yes
Likes: People
Dislikes: Have not found any
Crate trained: Yes
Poinsettia has adjusted well. She does fine with small and larger dogs. She has had no issues with kids, and has had no issues with cats (not brought on by a CAT-I-TUDE) She was pounced on by one of our cats after joining our household, one of our other dogs came to her rescue.  Cat has not bothered her since and she hasn't held a grudge, she just let it go.  She has a great personality, laid back and easy going. Poinsettia likes to be wherever people are, either beside you on the sofa or by your feet, she also likes to sleep at the foot of the bed, don't even notice she is there. She is diabetic and currently on three units of insulin twice a day with her meals.  Unfortunately, Poinsettia is developing cataracts but seems to be managing pretty well, only bumping into a few things here and there. Poinsettia has a great happy dance when it's time to eat or go to bed. She does does a great job of going to the bathroom outside.  She is very smart, but laid back.  Crate training only took two days.  She has a good understanding of: sit, lay down, lets go outside, lets go inside, kennel up, and of course her favorite words are breakfast, dinner, and cookie.