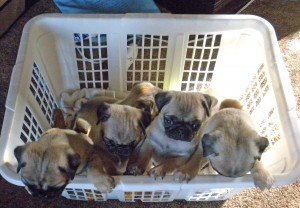 3 Pug Puppies
Age: 5-6 weeks
Altered: No – $50 refundable upon spaying or neutering
Housebroken: No
Pug puppies!! How can you resist? They will be available for their furever homes mid-October. Be sure to get your adoption application filled out soon!
All these puppies have been adopted!
Our dogs love to sleep on Kuranda Dog beds, but we don't have enough for everyone.
If you would like to donate a bed at a special wholesale price for a another dog to sleep in comfort, please donate a Kuranda dog bed.