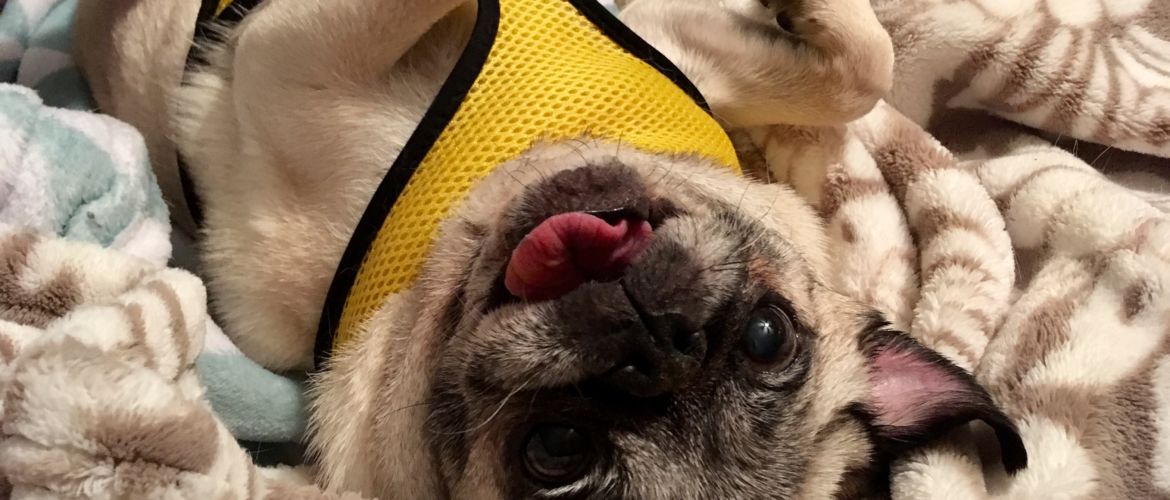 Penelope – Adopted
Name: Penelope
Age: 12
Previous Life: Owner surrender
Sex: F
Weight: 13 lbs.
Altered: Yes
Housebroken: Yes
Good with dogs/cats/kids: Yes/Unknown/Unknown
Likes: Playing, exploring the yard on nice days and lots of naps
Dislikes: None
Crate trained: No, but will tolerate a pen at night
Fenced Yard: No
*Special Needs: Penelope has bad knees, hips and back. She will need laser treatments, adjustments on a regular basis. She also takes Trixyn joint supplement and Carprofen.
I'm Penelope, though Queen Penelope might be more accurate! I'm a dainty 13 year-old lady looking for the perfect home to call my kingdom.
While some pugs may act like common dogs, I am a regal lady who knows exactly what I want and will let you know it. I will call for you when I desire assistance getting on or off the sofa. I will only sleep in bed with you, and I will make quite a fuss if you try to make me to sleep in a doggy bed.
I still enjoy playing with small stuffed toys. Watch the videos. I am *utterly* adorable.
I'm used to being around other dogs, and sometimes I groom them with my extra-long tongue. But my favorite spot is laying right next to you on the sofa or bed with my head resting on your leg. When I get really comfortable I like to roll onto my back so you can rub my belly.
At 13, I have some major aches and pains. I will require ongoing chiropractic and laser treatment to help me walk, along with joint supplements and an anti-inflammatory medication. I enjoy leisurely strolling through the yard to keep an eye on my kingdom, and I would like to stay active for as long as I can.
Has this little pug queen stolen your heart? Apply for Penelope today!
Penelope's minimum adoption donation is $175. Contact Penelope's PR team at kjacobs@pugpartners.com.
Can't adopt, but want to make a big difference in the life of this pug? Become a sponsor today!