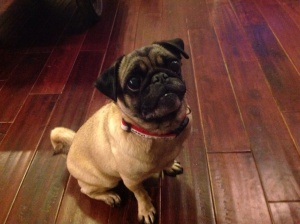 Name:  Ramona
Age:  8
Previous Life:  Owner Surrender
Sex:  F
Weight:  15 lbs.
Altered:  Yes
Housebroken:  Yes
Good with dogs/cats/kids:  Yes/Unknown/Unknown
Likes:  Exploring
Dislikes:  I'm a pretty easy going gal.
Crate trained:  Yes
Ramona is a very playful girl who loves attention. She gets along well with larger dogs and pugs and does well on a leash. She sleeps in a kennel through the night and hasn't had any accidents being confined to a living room area throughout the day with other dogs. Only a few marking incidents which have become much less frequent, but otherwise goes immediately when she is let outside. She really enjoys attention from humans and playing with small toys.