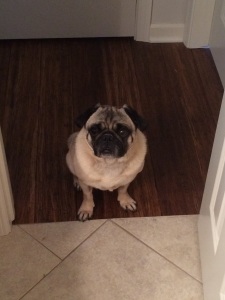 Name:  Ricky
Age:  8
Previous Life:  Owner Surrender
Sex:  M
Weight:  30 lbs. (I'm on a diet)
Altered:  Yes
Housebroken:  Yes, but when I first went to my foster home, I tried marking. I'm over it in a couple days though.
Good with dogs/cats/kids:  Yes/Unknown/Unknown
Likes:  Laying on a lap is the best, but I also like to run around in the yard.
Dislikes:  Sudden movements are a little scary for me right now, but the word "NO" gets my attention.  I don't like to share my treats, either.  After all, they are mine.
Crate trained:  Yes
Ricky is an 8 year young Pug who enjoys the finer things in life, including: snacks, playing and snuggles. He gets along well with other dogs both male and female and enjoys fetching for different things along with frequent naps. He enjoys being on your lap, chest or wherever he can be near you and especially likes sleeping on the bed right up next to you. Mornings aren't his favorite but once he is awake he is ready to go wherever you might want to go. He loves everyone but especially loves other pugs particularly his foster friend Bee Bee and is fond of his male foster parent. If you are looking for a dog that thinks the world of his owner all day every day and will give you the biggest greeting you have ever had, Ricky is the guy for you.