Name: Riley
Age: 8 years old
Previous Life: Owner surrender
Sex: Male
Weight: 19 pounds
Altered: Yes
Housebroken: Yes
Good with dogs/cats/kids: Yes
Likes: Unsure
Dislikes: Unsure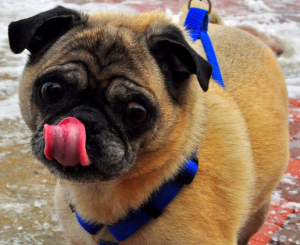 "Update from Foster Mom: Attached are pictures of Riley in his foster home and some with his foster brother Jake. Of course Riley is still doing great. He is actually starting to play with Daisy, his foster sister. Of course Riley is still "hunting" cats in my house. He does go up the stairs on our deck to get back in the house from being outside. Even though he is blind he has learned that once he is up on the deck he know to go straight foward to the sliding glass door. Being blind or diabetic has not slowed down this pug at all. I can cetainly tell that he feels a lot better since he has been in the care of Pug Partners. Riley is also one of the most cuddly loving dogs that I have met besides my own pug.
Hi my name is Riley. I am an 8 year old male fawn pug, whatever that means. I am totally blind because of my diabetes, but have gained weight and am feeling great! I just feel my way around my foster home, crawl on my foster pug brother, and try and find these cats that also live with me. I have learned the parameters of the house and now know I need help with the stairs and need help on the couch. I am kennel trained, love kids and other dogs, and am potty trained too. My family was very sad to part ways with me, but I'm doing just fine. I am insulin dependent which is really no big deal. I take 2 shots a day. My fur is coming in great and I've gained 6 lbs (weigh 19.8 lbs), which is well on my way to being a healthy weight. Now that I've got my health under control I'm looking for a new forever home. Think you'd have room for me? Go to www.pugpartners.com and fill out an application to adopt me at the bottom of my page."
From Riley-Available for Adoption!, posted by PugPartners Nebraska on 11/19/2010 (37 items)
Generated by Facebook Photo Fetcher


Riley is Adopted!
Our dogs love to sleep on Kuranda Dog beds, but we don't have enough for everyone.
If you would like to donate a bed at a special wholesale price for a another dog to sleep in comfort, please donate a Kuranda dog bed.