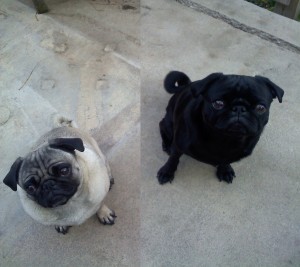 Name: Ringo and Annabelle
Age: 3 (both)
Previous Life: Owner Surrender
Sex: Male and Female
Weight:
Altered: Yes
Housebroken: Unknown
Good with dogs/cats/kids: Unknown
Likes: Walks, car rides
Dislikes: Unknown
Update from foster home —
Ring and Annabelle are a bonded pair. They are both house trained. Annabelle is definitely the boss of the two! She is sassy but also a lover! She loves to be picked up and held like a baby. She loves to play with toys. Ringo is a good brother, he just goes with the flow, he is a sweetheart! They both are! They love walks and rides in the car. They get worried when I go to another place in the house and they can't follow me. I keep them gated in my family room, kitchen and sunroom. They are used to being home all day with another pug and are so excited to see me when I get home! They are great nappers and Ringo has the best snore ever! They play with the neighbor children and get very excited when they come over! They will make a great addition to any family.
Ringo and Annabelle are Adopted!
Our dogs love to sleep on Kuranda Dog beds, but we don't have enough for everyone.
If you would like to donate a bed at a special wholesale price for a another dog to sleep in comfort, please donate a Kuranda dog bed.