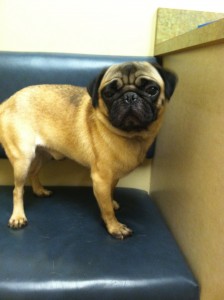 Name: Ross
Age: 2
Previous Life: Breeder Release
Sex: Male
Weight:
Altered: Yes
Housebroken: Unknown
Good with dogs/cats/kids: YES/YES/YES
Likes: Unknown
Dislikes: Unknown
Update from foster family –
He has been doing great! He gets along WONDERFUL with all of our kids and does good with other dogs as well! We are still working on potty training, but it is getting better!!!  At night and when i have to leave the house he goes into his kennel and we don't have to fight him to get in or anything! Every now and then he does a strange whine….and he just wants attention…he could be sitting on the floor at our feet and whine and we just start petting him and he's fine again! & another thing we don't let him on the coup upch so he doesmt even try it anymore! He's very playful!!! He truley is a great dog!!!
Ross has been adopted!
Our dogs love to sleep on Kuranda Dog beds, but we don't have enough for everyone.
If you would like to donate a bed at a special wholesale price for a another dog to sleep in comfort, please donate a Kuranda dog bed.