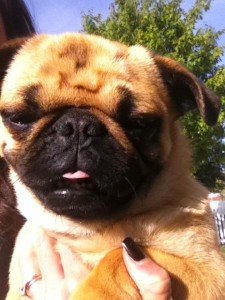 Name:Rucus
Age: 2
Previous Life: Owner Surrender
Sex: Male
Weight:
Altered: Yes
Housebroken: Yes
Good with dogs/cats/kids: Yes/Unknown/Unknown
Likes: Cuddles
Dislikes: Unknown
Rucus is a very adorable pug and loves to cuddle and can't wait to come into your home and get LOTS of attention. Rucus needs to be in a home with a dog.
Rucus is Adopted!
Happily ever after story:
Rucus's name has been changed to Franklin, which just seems more fitting. :)  He is SO cute and has adjusted perfectly to his new home!  For the first couple days at our house he was quite congested, not too excited about eating dog food, and had a couple of accidents.  However, he caught on quite quickly and hasn't had any issues since.  We were sort of worried about the eating issues… we've never seen a pug before that doesn't like to eat!  Haha.  But, he was drinking fine, so we figured that he would be okay; which, he was. 
We thought maybe it would take Freddy a little while to adjust, however, he fell in love with Franklin just as quickly as we did.  They play CONSTANTLY, snuggle, share toys, chew on bones, go on walks every night, and love playing with their Uncle Winston (he is also a pug!).  Overall, we don't really have any questions for PugPartners.  We are just so thankful that your organization has provided us with the two best dogs ever!  Both my husband and I grew up with dogs (I with pugs and he with miniature poodles), so we are very familiar with how to care for dogs and the time and work they require.  We got married this past November and Freddy even served as ring bearer in our wedding!  So, that should give you a good idea of how much we love our dogs! :)    
You may certainly post his forever story on your website!  We love PugPartners and we tell others all the time how wonderful your organization is!  Thank you for donating your time and efforts to such a worthy cause
Our dogs love to sleep on Kuranda Dog beds, but we don't have enough for everyone.
If you would like to donate a bed at a special wholesale price for a another dog to sleep in comfort, please donate a Kuranda dog bed.