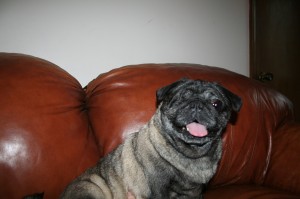 Name: Sadie
Age: 6 years
Previous Life: Owner Surrender
Sex: Female
Weight:
Altered: Yes
Housebroken: Yes
Good with dogs/cats/kids: Yes/Unknown/Unknown
Likes:Unknown
Dislikes:

"Sadie is a 6 year old female pug. She is an owner surrender and housebroken. Sadie needed to have an eye removed due to repeated eye injuries. She tends to be an alpha dog and will need to the only dog or the only alpha dog in the house. Sadie is spayed and in foster care. "
-Update from foster home. Sadie is house trained, very sweet, people oriented like most pugs are they want to be in the same room you are in. She will need to be with larger dog or alone. She is currently picking on smaller dogs. She does good with larger dogs!! She does have one eye and sees well out of it but can run into things sometimes. Sadie loves to give lots of kisses! So be prepared for some major lovin time!
From Sadie – Available for Adoption, posted by PugPartners Nebraska on 5/01/2011 (1 items)
Generated by Facebook Photo Fetcher


Sadie is Adopted!