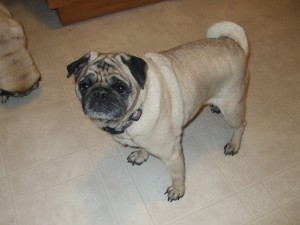 Name: Sam
Age: 9 Years
Previous Life: Owner Surrendered
Sex: Male
Weight:
Altered: Yes
Housebroken: Yes, but needs to be reinforced.  Owner had dementia and would forget to take him out.  Just needs to reminding him until he learns again.
Good with dogs/cats/kids: Yes/Unknown/Yes
Likes: Personal love and attention
Dislikes: Unknown
Sam is a 9 year old male who was surrendered by his owner because he had to move into senior care. His owner was heartbroken to give him up. He is fairly inactive because he used to sit at his owners feet. He is good with children, but they aren't sure about dogs or other cats because he hasn't been exposed much. He is used to roaming the house free and sleeping wherever he ends up. He is potty trained, but because his owner had dementia he got out of routine and needs reinforcement initally. He is submissive and just wants L-O-V-E!  Please help us find Sam an amazing home for the rest of his years.
Update from foster home –
I've been in foster care for several months now . My foster mom doesn't understand that and frankly neither do I. I'm a happy boy now. I wasn't at first. I was pretty mopey. My previous owner had to give me up when he went into an assisted living home and I didn't understand that. My foster mom took me to visit my previous owner and it turned out to be just the closure I needed! I loved him well and him me but life just got in the way of our happily ever after. I'm a happy boy now and my tail is always up.I'm 10 and kind of a lazy guy. I'm not that high maintenance type of guy at all. I'm perfectly happy lazing in my cozy bed or enjoying a nice rub now and then. I've got 3 foster pug sisters but I don't give a hoot for them. I tend to ignore that they are even around. I do love my foster mom though! I follow her every where. My eyes are going. I can't see as well as I did when I was young. I need drops in my eyes a couple times a day. I have what you call dry eyes. I need my home's furnishings to be kept in the same place otherwise I may hit my nose. Due to my eye sight I get a little nervous in new places. I like car rides and i'm a good passenger. I get a long with all people but I tend to bond to just one person in the house. Yep, you guessed it, the one who feeds me! I tend to like soft food instead of hard kibble. My foster mom thinks I enjoy it more because my previous owner always fed me turkey meatballs from Costco. My soft food reminds me of those yummy meatballs. But my foster mom told me those meatballs weren't good for me. As you can imagine I lost some weight. I'm healthy. I've been neutered and am current on all my shots. If your looking for a handsome guy give me a look. I'll steal your heart
Newest update from Foster home – Sam here. I'm still at my foster mom's house waiting for my forever home. While here I've been learning to become part of a family. I am proud to report I've made tons of progress!! I now like all my foster pug sisters. Before I didn't give a hoot for them! Other pugs are cool in my book now! It's great having friends. I love following them around. I'm still a low key guy though. I don't need to be top dog.I'll leave that for the younger generation. I'm super affectionate and handsome. I have my own bed which I love. I don't jump up on anything. I'll greet you w/a pug smile and a bark when you come home. I still have my dry eyes which need drops a few times per day. I also need my home furnishings to stay in the same place since I don't see very well. My foster mom changed the house around the other day. That was not cool! She forgot to tell me and I found out the hard way. I like to eat only once a day and I prefer soft food. My foster mom encourages me to wear a belly band in the house sometimes. I actually only need to go 2-3 times a day. I don't hike my leg either so the walls are safe, maybe not the floor all the time though. The swifter wet jet mop is handy I've heard. I love to sit outside and near my foster mom in the house. I love car rides and am a good rider. I still get nervous in new situations though. My foster mom thinks it's because my eye sight is poor. There is nothing wrong w/my hearing though. Say the word treat and I'm there! I like being brushed. Nothing like a good scrubbing. I've lost a lot of weight and am now a lean 18 – 20 lbs approximately. I look good!
If your looking for mature guy give my foster mom a call. I'll be waiting.
Interested in adopting Sam? Click here
Sam is adopted!